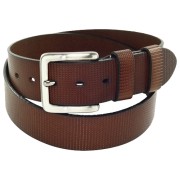 Transition from- "I want to wear it because it holds my trouser!" To- "I want to wear it because it is trendy!"
Is a great example to show how a marketer can bridge the gap between utility and trends in fashion. Belts have been associated to men as their premium accessory from ages. Back then these were used as a flexible strap to be worn around the waist just to hold one's trouser. Nobody for a long time realized that this utility accessory can be aligned with the growing trends of fashion.
Sooner it caught the attention of glamour and this traditional piece of accessory was crafted in terms of the growing face of fashion. From just being associated with words like comfort and need, belts expanded their horizons of description and are now linked to words like fashion, trend, classy, elegant and stylish along with comfort and need. With the rise of metro sexuality men use this product very prominently to enhance their look and be on sides of fashion.
A belt is an accessory that fits your every single attire. It suits your casual wear, complements your party wear and is a must for your formal wear. No matter if you are a school student, a college teenager, a business professional or a grown adult; you would be carrying a belt along your waist, the irony to this context lies in the fact that none of the four people mentioned would be wearing the same belt. The utility of the product remains same for everyone, but depending on their style and proposition four different products exist.
It does not matter that you are wearing a Gucci or a Louis Vuitton all the time, it is rather important that you are wearing the right one at the right time. Usually people prefer the one that they can carry, the one that goes by, their attire and can complement their personality.
Lots of companies have identified this potential that exists in this segment of fashion and have been able to satisfy their large consumer base with their wide range of products. Today a lot of big brands have invested in this segment and the market is filled with a large variety and offerings of leather, canvas and designer belts.
Belts are usually referred to as premium men's accessory because of the following few reasons:
1) It is a basic utility accessory that caters to one's need.
2) There is no age limit for people who use it. From kids to teens to adults, it is used by everybody.
3) It suits your every attire – formal, casual, party, trendy and many more.
Orosilber an Indian iconic fashion accessory brand that is known to be a renowned player in the market has a wide variety of canvas and leather belts. The pieces are beautifully crafted with high quality leather along with stylish buckles that matches the current trends of fashion. The belts are priced reasonably with utmost quality and are best suited for both formal and informal wear. The belts are elegantly made for a premium finish. The company assures the quality of the leather used in making the belts and has wide options available in various shapes and sizes varying from 34,36,38,40 and 42.
But is leather the only ingredient that goes into making of a belt? It might seem like, but it is not. A buckle usually complements the belt's design, but if not used wisely can act as an acid ingredient. Even the finest of belts have a risk of being defeated by an awful buckle. A buckle that might look excellent with a canvas belt might not leave a same impression with a leather belt. So it acts to be an equal element that either makes or breaks the image of a belt.
Belts also serve as a wonderful gift for your father, your brother, your husband or even your friend. A gift that has a utility value attached to it proves out to be the best one in case of a man, keeping this thing in mind Orosilber offers a wide variety of gifts for various occasions.
Based on this propensity, Orosilber has produced a large variety of belts that goes handy with all of your attires and is as per the current fashion trends. The products are premium, luxurious and stylish. Adding on to the advantages, the belts are of unexcelled quality matched to a true sense of lavishness without any compromise. The brand has a huge customer base and the offerings are well received in the market.
If you were waiting to buy it for you, or were thinking around for a gift for your loved one, all you have to do is to visit http://www.orosilber.com/ and check out their latest collection and you will find answers to your dilemmas.
Share: